We Know Pools
Quality Work Guaranteed
Our Company imports and distributes in UAE the specialized swimming pool equipments, accessories and chemicals of the international companies like Hayward IMG (USA), Astral Products (Spain), Thermalec Products (UK),Arch Water Products HTH (France) and Occidental Chemical Corporation (USA) and distributes these goods to a highly fragmented customer base.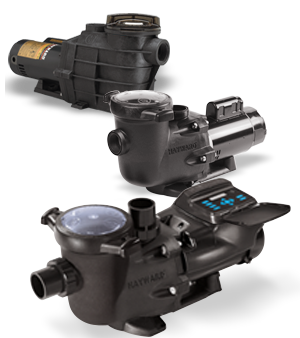 Super Pumps from Hayward IMG is of a large capacity, high technology pumps that blend cost efficient design and high performance engineering with durability, corrosion-proof construction with a whooping 10 year warranty. ProHayward pool maintenance tools and accessories provide the value and dependability and enable you to realize the maximum benefit for your money.Super Pump is the world's best selling pool pump that is efficient, dependable, and proven, setting the standard for excellence and value. Reliability and Performance - #1 selling pool pump, Best all-around circulation pump, Heavy-duty motor - quieter, cooler operation, Exclusive swing-away hand knobs - easier strainer cover removal for quicker basket cleaning, Faster service -remove 4 bolts to access impeller
Our friendly staff also offers pool maintenance services from regular pool cleaning, to complete pool restoration, equipment repairs, pool repairs , electromechanical works concerned with installation of new pool equipments (Filters, Pumps, Dosing Systems, Ozonation Systems, Heaters, Heater Chillers)
ACL60/ACL90 from Occidental Chemical Corporation, a leader in chemicals offers the customers superior performance, safety, economy and convenience. ACL 60 is the fastest dissolving solid granular chlorine with less odour and provides sun shield to last longer and eliminates cloudy water or scaling and performs better than the normally used Calcium Hypochlorite whereas the ACL 90 provides the highest chlorine content that any solid or liquid sanitizer at an affordable price.